Turn on the television, search the web, talk to a co-worker, the message seems the same. Just in time for Christmas, we may be in a "Scrooge Market". People are fearful right now, and the markets show it. With the Dow, S&P, and Nasdaq selling off the highs of earlier this year, we are seeing investor anxiety at levels not seen in some time.
Looking back on 2018, volatility has been the norm. More than once this year, we have seen markets reach all-time highs, only to decline and test the low level for the year. While these periods of short-term volatility can be alarming and raise concerns, consider this slide from JPMorgan Asset Management's Guide to the Markets (November 2018). In 29 of the last 38 years, the markets have finished the year with positive returns, despite having average intra-year declines of 13.8%.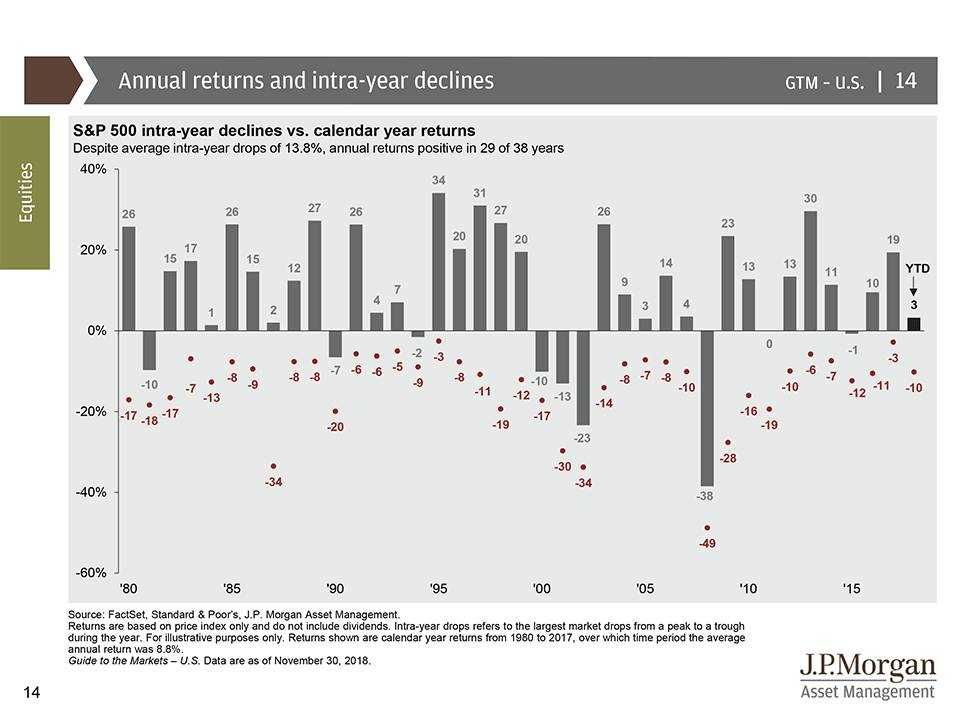 As you can see, this type of market volatility during the course of the year is not abnormal. Short-term volatility is normal, sometimes healthy, and should realistically be expected. With that in mind, here are a few things to consider to help keep Scrooge from interfering in your financial success:
1. Review your financial plan/strategy
Take these opportunities to review your financial plan with your financial advisor. You should have a strategy in place that is crafted with the understanding that periods of uncertainty are going to happen. Your plan should be structured to not just address investment issues, but the many financial issues that are important to consider over time (i.e. taxes, charitable giving, distribution strategies, etc.). It should be flexible to allow for a short-term change to be made when necessary. If you have not yet implemented a financial plan, I would strongly consider doing so. And be advised, simply purchasing an investment or insurance policy is not a financial plan. Find an advisor who has the resources to provide you with an actionable plan and then the tools to actually deliver on your needs.
2. Long-term Perspective
Whether you are just starting out, preparing for retirement, or enjoying your retirement, a long-term perspective is important. If you have a plan in place, it should be structured with the long-term in mind, not allowing periods of uncertainty to have an impact on your overall outlook. Some of the most detrimental financial planning mistakes are made around very short-term decisions.
3. Stay Disciplined
It's easy to get discouraged when the progress you have made takes a brief pause. However, in the midst of adversity, success happens most often when you stay the course, making small, yet incremental changes when necessary. Stay disciplined in investing in your retirement programs, as dollar cost averaging is a great way to take advantage of volatility and lower share prices. If your employer provides a match to your retirement plan contribution, make sure you are taking full advantage and adjust appropriately if you are not.
Most importantly, take this time to re-evaluate your goals and establish new ones if you must. Whatever you do, it is important to keep your feet on the ground, make educated and informed decisions, and avoid any knee-jerk reactions. While Scrooge may not be on your side, history certainly is. Merry Christmas.
Registered Representative offering securities through First Allied Securities, Inc. A registered Broker/Dealer, member FINRA/SIPC. Investment Advisor Representative offering advisory services through First Allied Advisory Services, Inc.
JPMorgan Asset Management and Cuba Financial Group are not affiliated and no incentive is offered to use this material.